Watch restoration services
Whether you need a Gucci battery replacement or our watch restoration services, Watch Repairs USA will always provide great service and a free estimate on your repair. We provide a large range of maintenance options to repair Gucci watches:
Gucci Quartz Repair
Gucci Reseal
Gucci Movement Service
Gucci Band Repair or Replacement (Leather Straps, Metal bands, Silicone Bands)
Gucci Stem and Crown Repair
Gucci Water Resistance
Gucci Bezel Replacement
Gucci Dropped and sustained impact damage
Gucci Watch Case Refinishing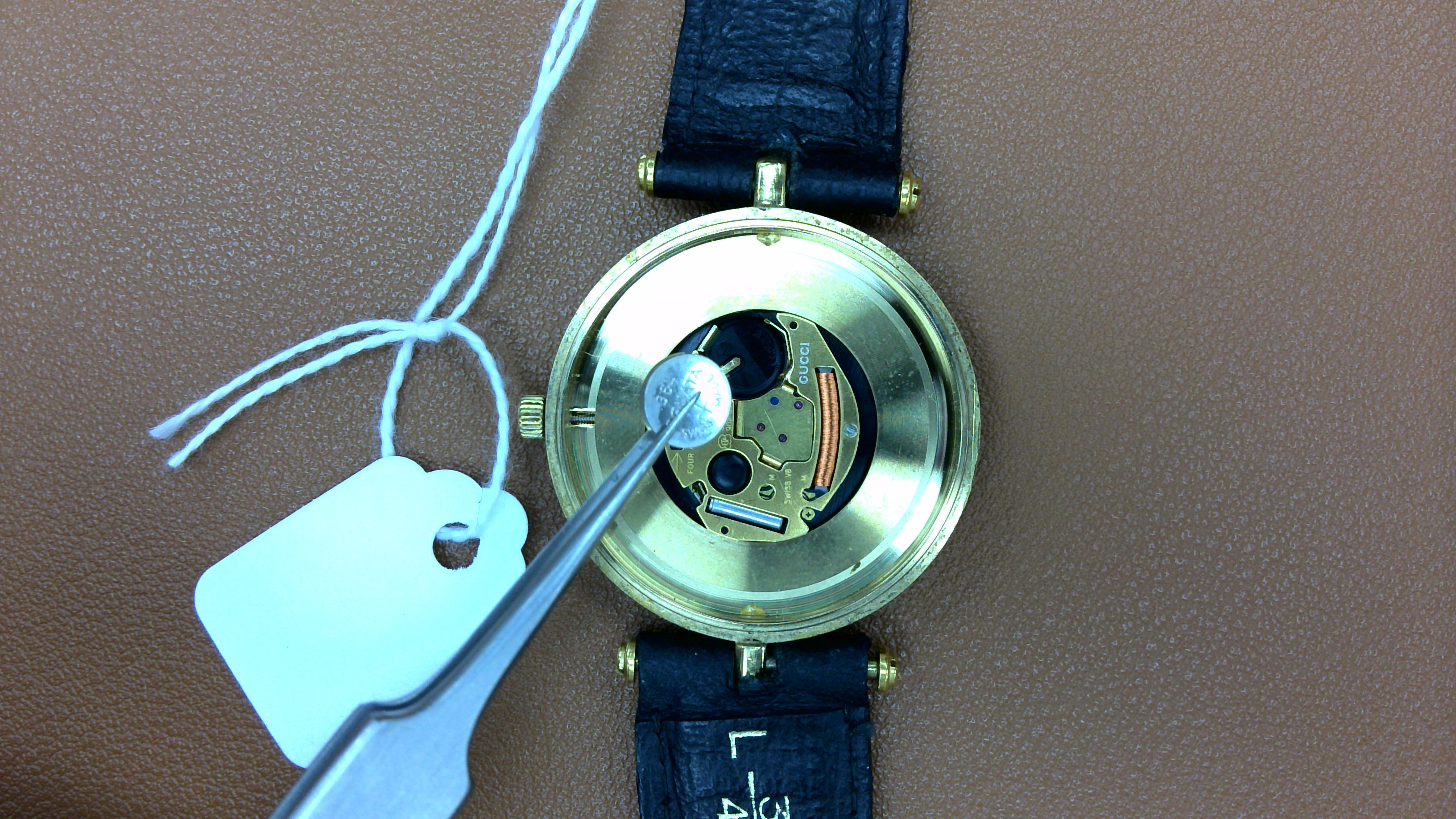 Need a Repair?
Watch Repairs USA is used by customers across America, so join the over 300,000 satisfied customers and get your Gucci serviced.
Use the REPAIR NOW link to fill out our 3-step form about your watch online & print the free insured UPS label.
Pack your watch and ship it off at any UPS location.
We'll inspect your Gucci watch and provide a free estimate.
Experience watchmakers repair your watch.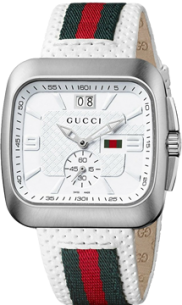 Are Gucci watches high quality?
Gucci has a reputation as a renowned Italian luxury fashion brand known for its stylish and high-end products, including watches. Gucci watches are designed to reflect the brand's iconic fashion-forward approach. They often feature the distinctive form and Gucci design elements such as the signature colors, fashionable aesthetics, and the interlocking "G" logo found in watches like G timeless, Gucci dive, and G chrono.
Gucci offers a wide range of watch styles for both men and women, which can include quartz or automatic movements. The materials used in Gucci watches vary from stainless steel to precious metals like gold and silver, sometimes incorporating diamonds or other gemstones for added luxury.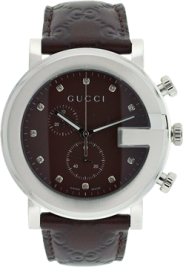 Is my Gucci watch real or fake?
At Watch Repairs USA our Swiss trained watchmakers provide a free estimate and can authentic Gucci watches. A Gucci timepiece is known for attention to detail and high-quality craftsmanship. Inspecting the watch carefully for any signs of poor construction, rough edges, or loose watch parts. Any noticeable flaws could indicate a fake.
Paying close the Gucci logo on the watch face, dial, and strap. The logo should be clean, sharp, and precisely engraved or printed. Counterfeit watches may have slightly different logos or misspellings.
Verifying the serial number: Authentic Gucci watches have a unique serial number engraved on the back of the case. You can authenticate with Gucci directly or visit an authorized dealer to verify the authenticity of the watch using the serial number.
Authentic Gucci watches often come with quality quartz or automatic movements. If your watch is advertised as a Gucci timepiece but has a cheap or generic movement, it could be a red flag. This process requires both experience and familiarity with the intricacies of the internals of a watch and requires an expert.
Seek an experts opinion: If you have doubts about the authenticity of your Gucci watch, it's best to seek the opinion of a professional watch expert. They will be able to examine the watch in person and provide you with a more accurate assessment.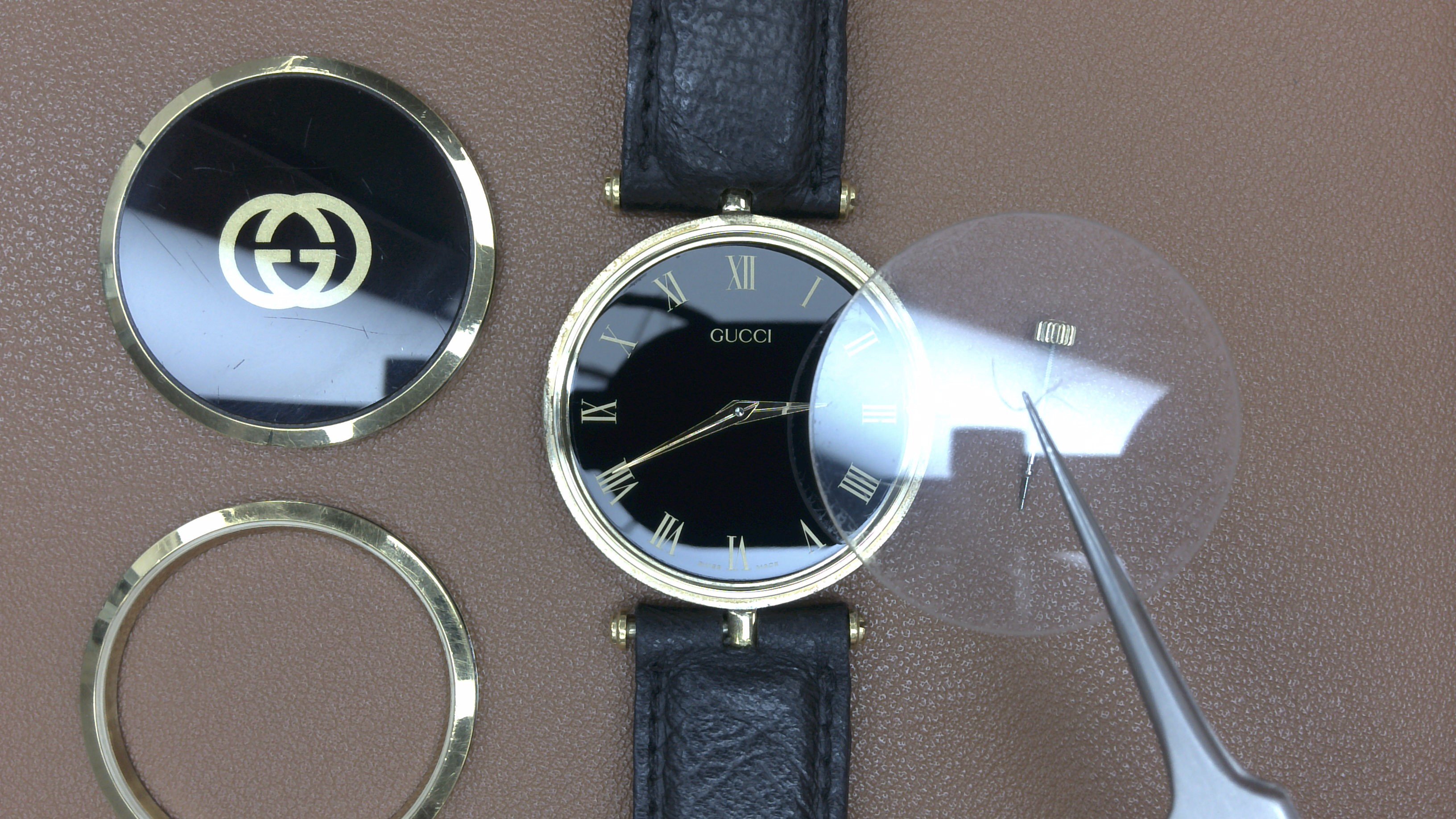 Do Gucci watches hold their value?
Gucci watches are primarily known for their fashion-forward designs and association with the luxury fashion brand rather than their horological value. As with many fashion luxury items, the value of Gucci watches is often influenced by factors such as trends, brand popularity, and marketing.
While some limited-edition or vintage Gucci watches might gain some collectible value, most Gucci timepieces do not tend to appreciate significantly in value over time like traditional high-end watch brands.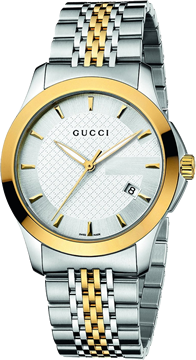 What if my Gucci watch has stopped?
There could be several reasons why your Gucci watch has stopped. Here are some common reasons:
Battery Depletion: If your Gucci watch is a quartz (battery-powered) model, it may have stopped because the battery is depleted. Quartz watches rely on a battery to power the movement, and when the battery runs out of power, the watch will stop. You will need to take it to a Gucci repair professional to have the battery replaced.
Mechanical Issue: If your Gucci watch is an automatic or mechanical model, it could have stopped due to a mechanical issue. Mechanical watches require regular servicing to ensure they are in good working condition. Over time, the movement's components may wear out or become misaligned, causing the watch to stop. In this case, you would need to take it to a qualified watchmaker or an authorized Gucci service center for repair.
Damage or Water Ingress: If your watch has suffered a shock or impact, it may have caused damage to the movement, leading to the watch stopping. Additionally, if the watch is not water-resistant and has come into contact with water or moisture, it can cause damage to the movement and stop the watch. Some damage may also jeopardies your watches crystal and a crystal replacement may be required.
Stuck or Jammed Crown: The crown is the small knob on the side of the watch used to set the time and date. If the crown becomes stuck or jammed, it can prevent the watch from running properly.
Magnetic Interference: Magnetic fields can disrupt the functioning of a watch movement, causing it to stop. If your watch has been exposed to strong magnetic fields, it may have been affected.
Old or Poor Quality Battery: If your watch uses a battery, it's possible that the battery installed was old or of poor quality, leading to premature battery failure.
If your Gucci watch has stopped, it's best to take it to a professional watchmaker for examination and repair. They can diagnose the issue and provide the appropriate solution to get your watch running again. Attempting to open the watch or fix it yourself may void any warranties and cause further damage.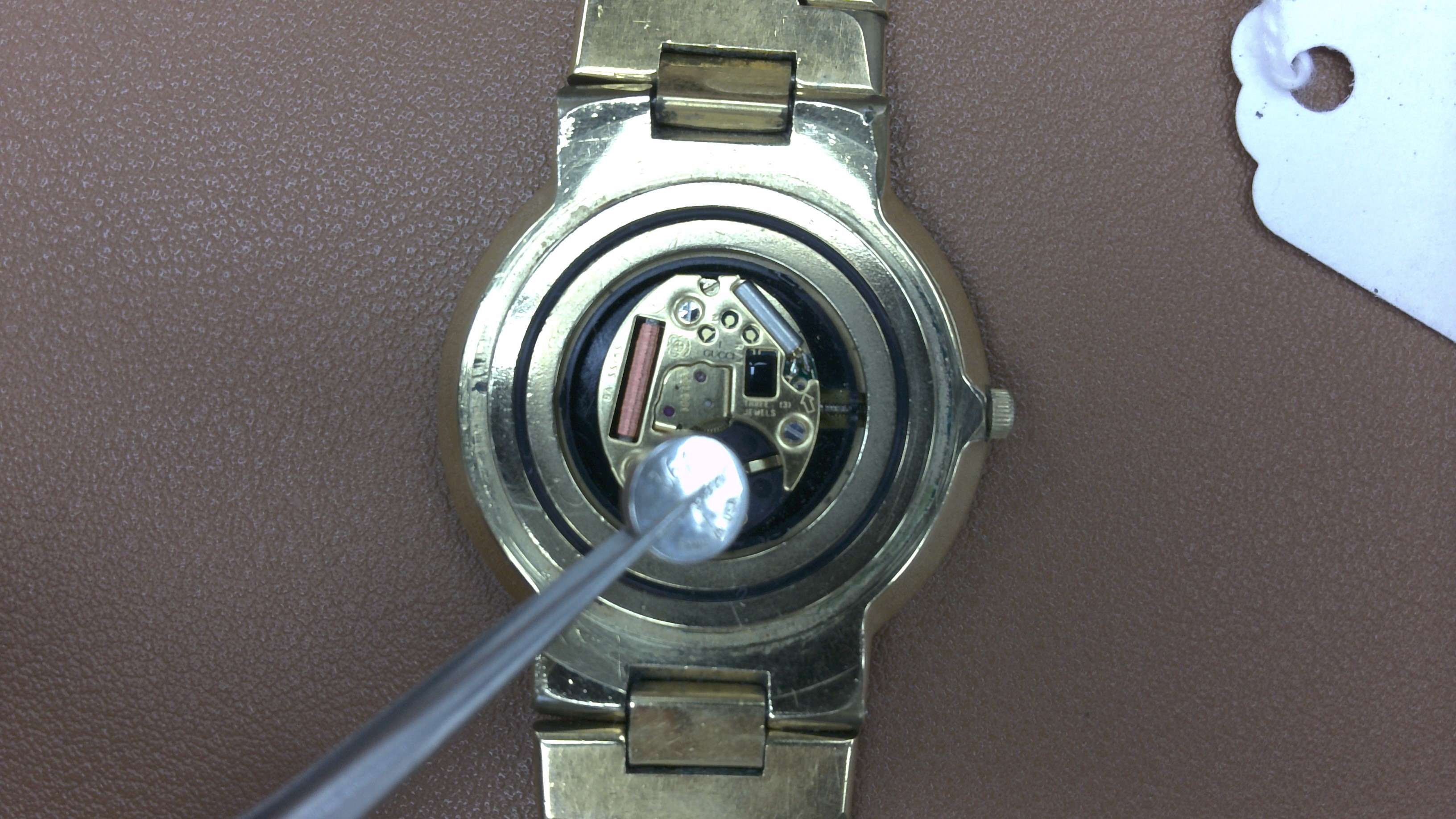 Does Gucci watches have a lifetime warranty?
The warranty provided by Gucci for their watches usually covers manufacturing defects and materials for a limited period of time from the date of purchase, which is typically two years. This is the standard warranty duration for many luxury watch brands.
During the warranty period, if your Gucci watch experiences any defects related to the manufacturing process or materials, Gucci or an authorized service center will repair or replace the watch at no cost to you. However, this warranty does not cover normal wear and tear, damage caused by accidents, misuse, unauthorized repairs, or the battery. Watch Repairs USA offers that all services be backed by our 1-year warranty.

How long does a Gucci battery last?
The lifespan of a Gucci watch battery, like any other quartz watch battery, can vary depending on several factors, including the type of movement, the quality of the batteries used, and how often the watch is used. In general, a standard quartz watch battery used in Gucci watches is expected to last anywhere from 1 to 3 years.
If your Gucci watch has additional features like a chronograph function or other complications, it may consume more power and result in a slightly shorter battery life.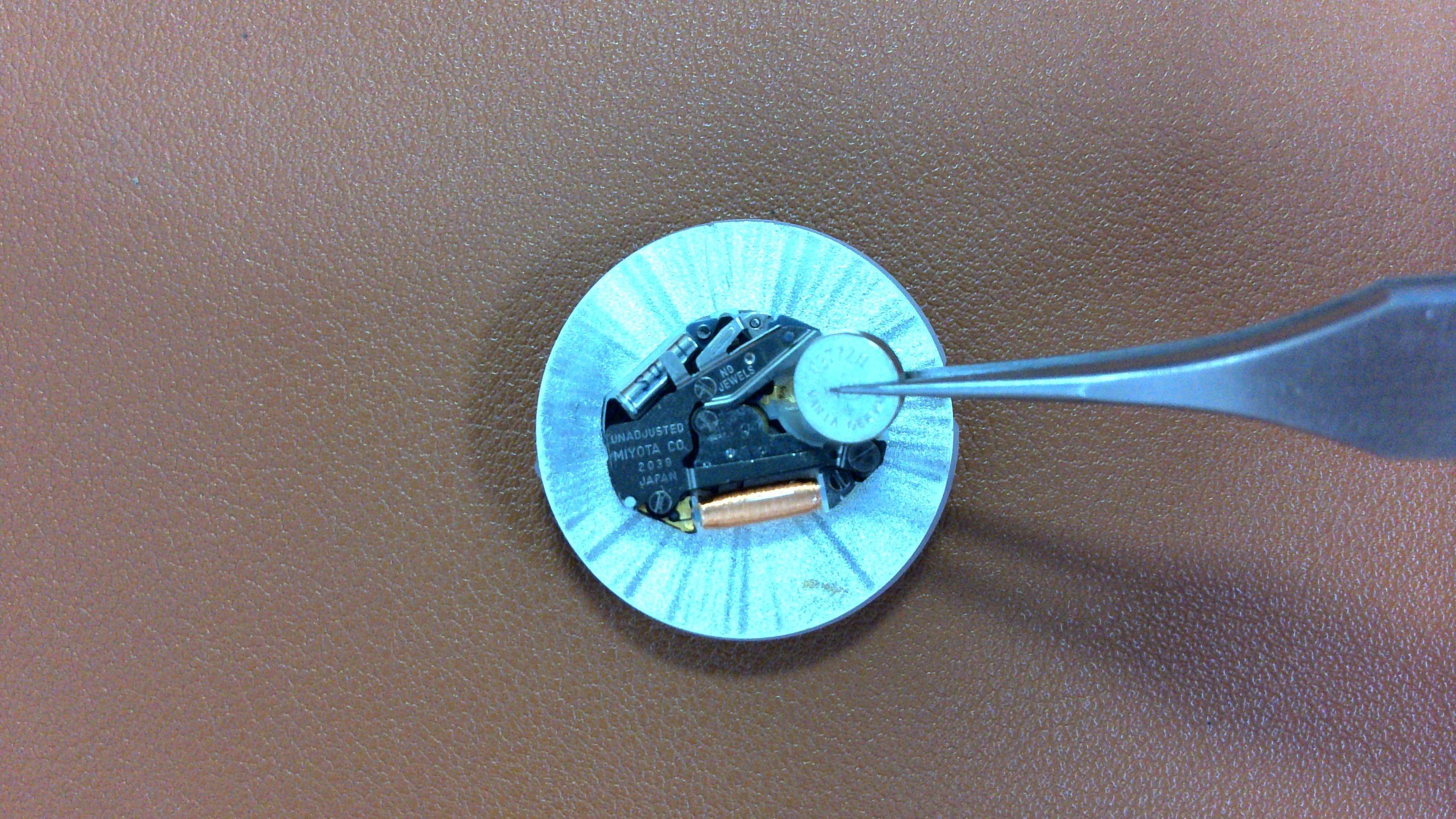 Can a watch crystal be repaired?
Yes, a crystal replacement is the simple solution your crystal is scratched, cracked, or damaged. This fix can do wonders for your watches presentation and restore that original condition look. The watch crystal is the transparent cover that protects the watch dial and hands. It can be made of various materials, including mineral glass, sapphire crystal, or synthetic materials like acrylic. The repair or replacement of a watch crystal will depend on the type of damage and the material of the crystal.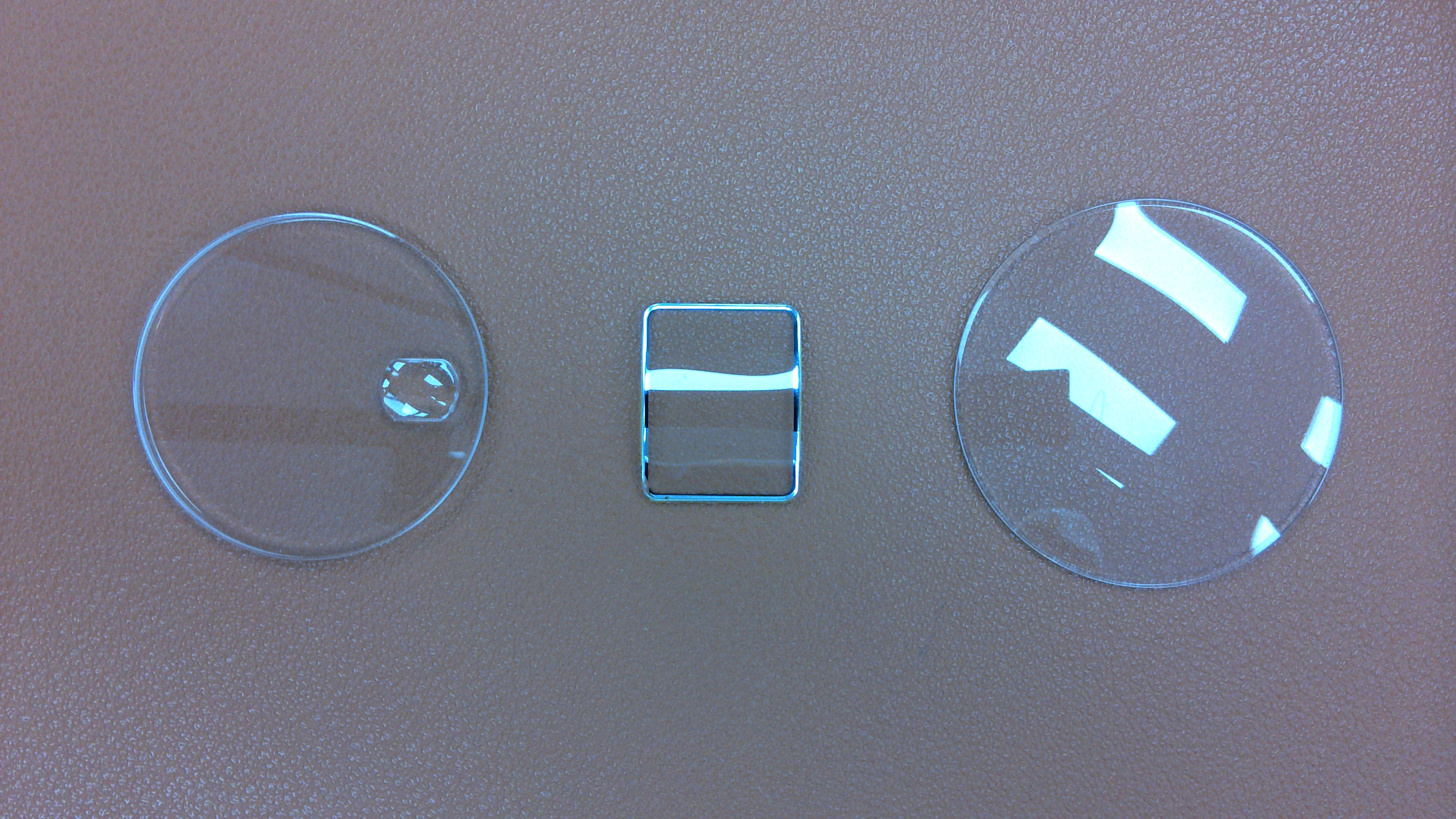 Gucci watch repair